Innovation Lab Opportunities
The NRF Innovation Lab is a carefully curated, invitation-only showcase of the most visionary retail technologies. The Lab is an immersive experience where these technologies come to life through hands-on demonstrations, featuring the latest advances in technologies such as:
Artificial Intelligence | Augmented Reality | Virtual Reality | Machine Learning
| Facial Recognition | Robotics | Data Analytics | Web3
Participating in this event provides the opportunity to expand one's business and brand like never before.
To be considered for the next Innovation Lab, you must meet the following criteria:
Technologies in the latest trends including but not limited to: artificial intelligence, augmented reality, virtual reality, visualization, robotics, data analytics, web3, blockchain, drones, autonomous vehicles and more.
Must be a technology that solves a problem for retailers and is new to the market within the past 2 years.
Must be either live with a retailer or in pilot phase (no concept phase).
Must have a visually compelling way to demonstrate the technology.
Was your company founded in 2020 or later? If so, you may also qualify to exhibit in the Startup Zone.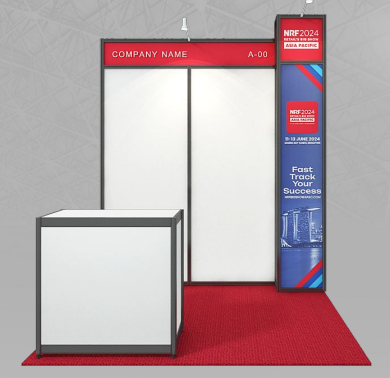 Innovation Lab
USD6000 / booth
What's included
2.5m L x 3m ht modular system backdrop with vertical branding pylon and fascia
6.25 sqm needle punch carpet
2x long arm-spotlight
1x 13amp power socket
1x 1m ht reception counter
1x barstool
1x wastepaper basket
Also includes:
Exhibitor badges: 3x badges
Conference badges: 1x badge
Company listing on event mobile app/website/
e-invitation
Innovation Lab photo gallery