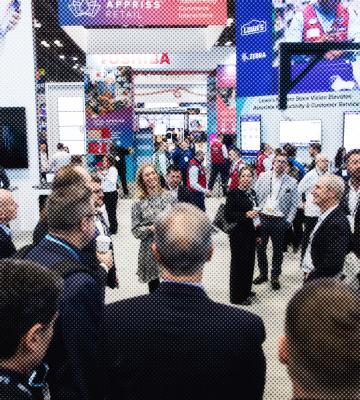 VISA Information
Nationals from a wide majority of countries do not require a visa for social visits of a 30-day duration provided they are in possession of recognized and valid travel documents, adequate funds, and return or onward tickets.
Please visit the Singapore Immigration & Checkpoints Authority website for a list of countries that will require a visa to enter Singapore.
How to Get a Visa:
If you require an invite letter to obtain a visa to come to the event, you can obtain the letter during the registration process by clicking on "Visa Letter of Invitation". and include the following information:
Letter of Invitation (Introduction Letter)
Please be informed you are required to register as a Visitor prior to submitting your request for the Letter of Invitation to the Organiser.
Email Ms. Natalie Tan at nrf-marketing@comexposium.com with Subject title: NRF 2024: Retail's Big Show APAC Request for Letter of Invitation,
Provide the following details:

Kindly quote your Registration Confirmation No.
Scanned Copy of your business card and passport
Full Name (as in passport)
Passport/Travel Document Number
Nationality
Job Title
Company
Company Address / City / Country
Country of Departure
Mobile Number
Email Address
Be sure to apply early to be sure you get your visa in time.
If your request is successful, a copy of your Letter of Invitation will be emailed to you.

Please Note : Your request for a Letter of Invitation alone with the required information and documents must reach the Organiser by 10 May 2024.
*Please note that the organizer may refuse a visitor accreditation if the applicant's profession is not compliant with NRF's retailer and eligibility rules
Important Notes:
A Singapore visa is not an immigration pass. It is a pre-entry permission for the holder of a valid Singapore visa to travel to, and seek entry, into Singapore. The grant of an immigration pass will be determined by the Immigration & Checkpoints Authority (ICA) officers at the point of entry. Possession of a valid visa alone does not guarantee entry into Singapore.

A holder of a valid Singapore visa who is found suitable for entry into Singapore will be issued with an immigration pass to enter and remain in Singapore. You are advised to check your passport for the arrival visit pass endorsement when in Singapore and take note of the period of stay granted before leaving the checkpoint. The period of stay granted is shown on the visit pass endorsement given on your passport and it is not tied to the validity of your visa.